72th Republic Day celebrated at Jayoti Vidyapeeth Women's University Jaipur, Jan 26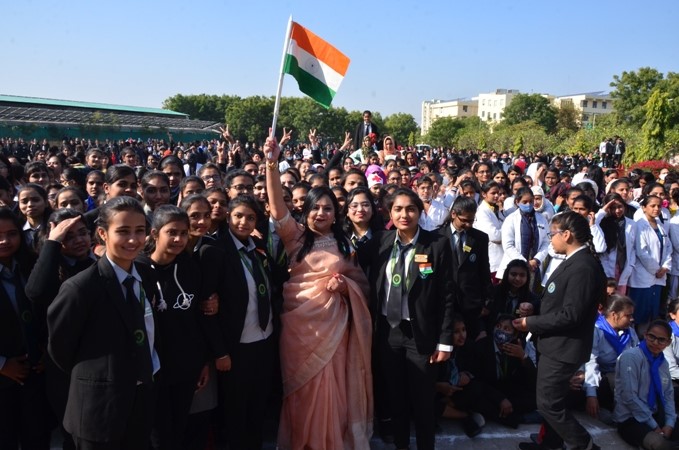 72th Republic Day celebrated at Jayoti Vidyapeeth Women's University
Jaipur, Jan 26
The 72nd Republic Day was celebrated at the Jayoti Vidyapeeth Women's University with traditional fervor and gaiety on Tuesday.
Hon'ble chairperson of the University Vidushi Garg hoisted the Tricolour on this occasion, which was followed by singing of the National Anthem.
Addressing the students, hon'ble founder and advisor of the University Dr. Panckaj Garg stressed the need to continuously strive to preserve the freedom, which was achieved after great sacrifices.
He also emphasized the importance of self-reliance and exhorted the students to follow a strict code of discipline life.
Dr. Garg also dwelt in detail about the new education policy and said that practical exposure was essential to gain meaningful knowledge.
Earlier members of the Student Clubs took part in a march past. A grand cultural program was also organized to mark the occasion. Patriotic songs and chants of 'Bharat Mata ki Jai' reverberated in the campus while the Rajasthani band gave its performance before the cheering students.
The teaching faculty and administrative staff and other members of the Varsity family were present on this occasion.