A Free Health Check-up camp was organized on 12-01-2023 on the occasion of National Youth Day at #RajasthanUniversity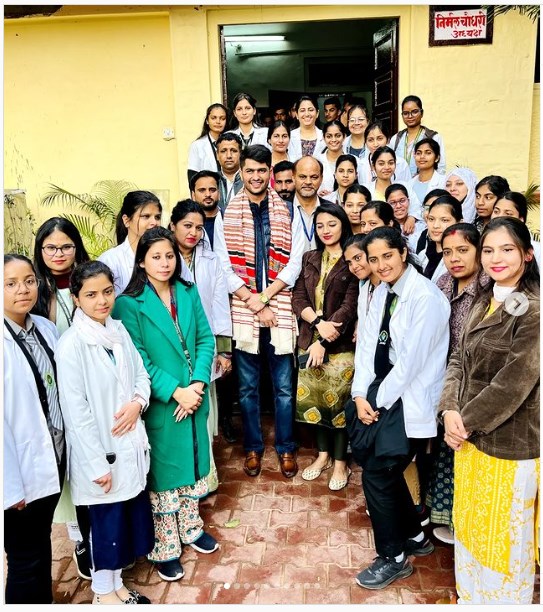 The Free Health Camp aimed to provide accessible and affordable health services to the community, with a focus on preventative care and early detection of potential health issues. This camp was open to individuals of all ages and offered a range of services, including blood pressure and blood tests, and consultations with doctors. Participants were also provided with information on healthy living and disease prevention. Approx 200 individuals attended the camp, with a roughly equal distribution of men and women. The free health check-up camp was a success in providing accessible and affordable health services to the community. The high attendance and positive feedback from participants indicate a strong need for such events in the area.
During the camp Rajasthan University 's student leader Shri
Nirmal Choudhary
thanked Jayoti Vidyapeeth Women's University for organizing free Health Care Camp and said such camps should continue to be held regularly to ensure that community members have ongoing access to preventative health services. In this free medical consultation camp, Ophthalmologist, Ear, Nose, Throat Specialist, Gynaecologist, Homeopathy Specialist, Ayurveda Specialist, Yoga & Naturopathy Specialist, Physiotherapist (Dr.Meenakshi, Dr.Suman, Dr.Sonali, Dr. .Mukta, Dr.Manoj Gaur, Dr.Triveni, Dr.Ekta) as well as medical students provided their services and all tests (blood group, blood pressure, sugar) were provided free of cost. The people who attended said that they were benefited by the facilities provided in the free medical consultation camp. Medical Camp is an opportunity for the Social Work students to have a better experience of community life & improve their professional skills by organizing need-based programmes & awareness campaigns with the support and collaboration of local people. It also provides ample opportunity for students to learn the importance of adjustment & coordination in life.