EDUCATIONAL TRIP TO PATANJALI YOGPEETH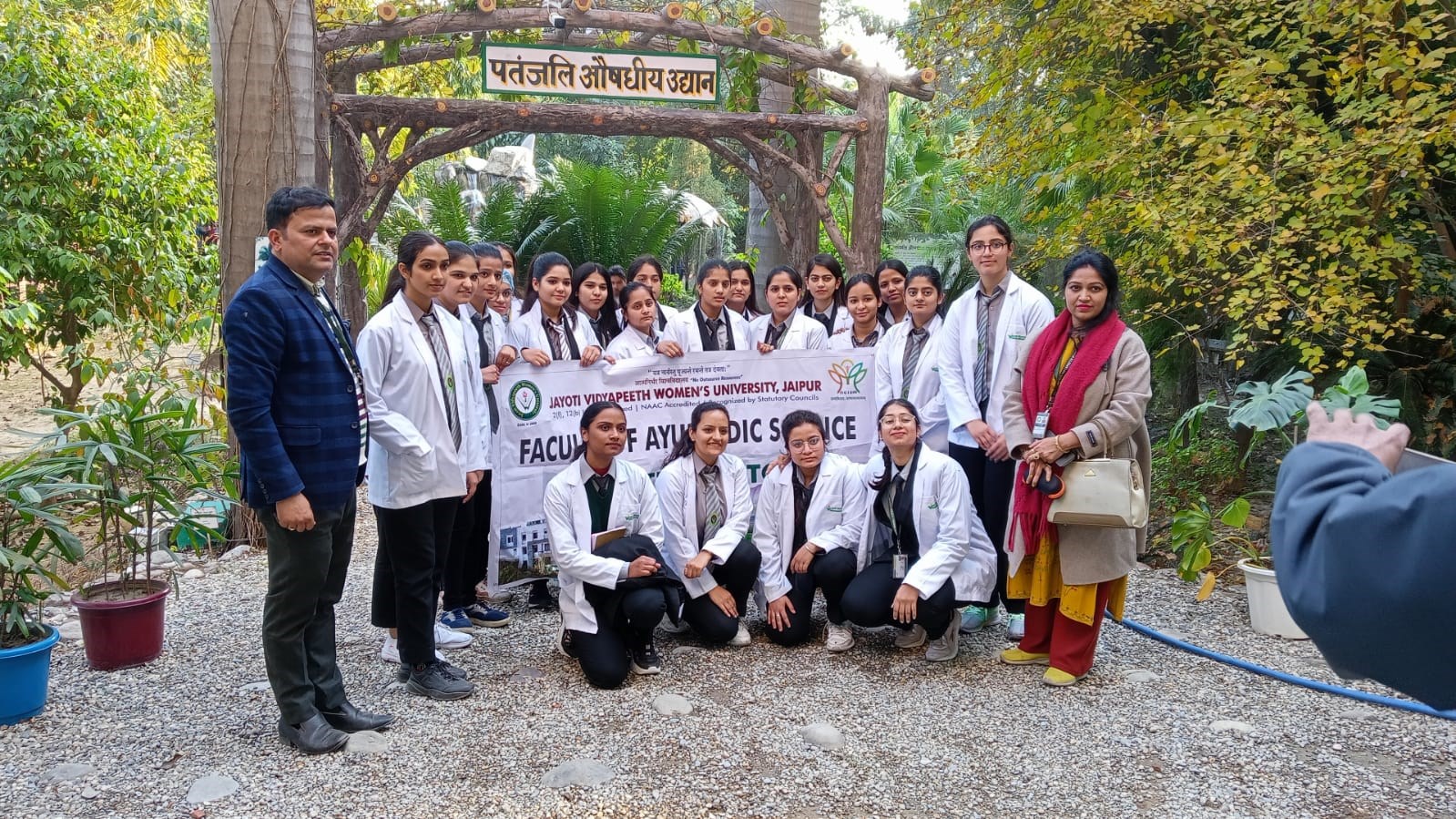 EDUCATIONAL TRIP TO PATANJALI YOGPEETH
Faculty of Ayurvedic Science, Jayoti Vidyapeeth Women's University Jaipur organized an Educational Trip for BAMS Batch 2021 (II Year) at Patanjali Yogpeeth Haridwar, Uttarakhand from 22-23 December 2022
According to the norms of NCISM, the essential Educational tour of Dravyagun Vigyana and Rasa-Shastra departments was successfully conducted. The Purpose of the trip was the Exploration and Identification of Medicinal Plants as a Part of 2nd Prof BAMS Curriculum.
During their Visit to Patanjali Yogpeeth Haridwar, Students along with 2 Faculty members firstly visited the processing unit of Dant Kanti Tooth paste and the manufacturing branch of Patanjali cosmetics. Then they visited Patanjali's 10000 square feet medicine warehouse.
Thereafter they observed the medicinal plants and medicines prepared in the Divya Pharmacy, in which different types of Rasa Aushidhi and Bhasma preparing methods were seen. After that they visited the Central Lab of Patanjali Yogpeeth, The HOD introduced students about each and every section of the Laboratory and gave knowledge about the the significance of following the standards in different pharmaceutical practices.
During lunch hours in the canteen of Patanjali they observed that food offered and served was completely satvika diet.
On the second day, Experts of Patanjali research centre introduced them to the various medicines of the Herbal Garden and also shown the Nakshatra Vatika and rashi vriksh vatika. It was very insightful to know that the 900 species of Medicinal Plants are being used in the treatment of various ailments without any side effects. The beauty of Ayurveda could clearly be seen and felt. Throughout the complete tour they got nice cooperation from all the officers and employees of Patanjali yog- Peeth and Divya Pharmacy.
Such Educational Trips are very important for the intellectual growth of students. Practical experiences prepare and nurture the knowledge of student