Jayoti Sangh Elections 2020-21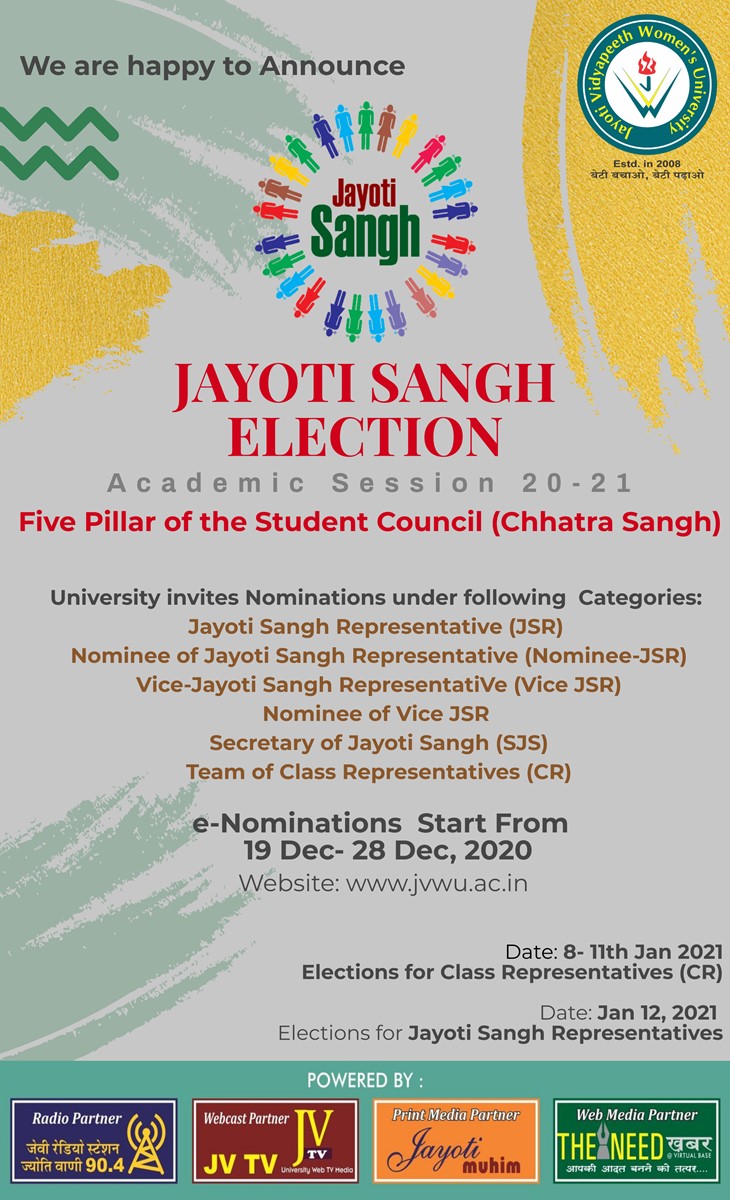 University Management welcomes all the JV'ns to the 13th Academic Session 2020-21 of the University. Jayoti Sangh acts as a bridge between the University Management and Students; it is a voice of the students which reflects their aspirations.
We announce elections for Class Representatives (CR) of Jayoti Sangh for New Academic Session 20-21 for all JV'ns to be held on 8- 11th Jan 2021 between 9.00 am to 3.00 pm class wise in respective classrooms.
The elections for Jayoti Sangh Representative (JSR), Nominee of Jayoti Sangh Representative (Nominee-JSR), Vice-Jayoti Sangh Representative (Vice JSR), Nominee of Vice JSR and Secretary of Jayoti Sangh (SJS) will be held on January 12, 2021.
This year All Students of the University including Interns can fill the nominations form for the Jayoti Sangh Election 20-21
The e- nominations will start by filling e-nomination form Virtually for all desired positions by December 19- December 28, 2020. E- Nomination Form will be available on University Website. www.jvwu.ac.in under Jayoti Sangh.
All the elected CRs will elect their JSR, Nominee-JSR, Vice-JSR, Nominee Vice-JSR and SJS. The nominated candidates will be given 2 minutes to give their presentation on 'Why should I be elected' in front of the entire student community and elected CRs .
Eligibility for Nomination of CRs, SJS, Nominee of Vice-JSR, Vice-JSR, Nominee of JSR and JSR:
1. To be eligible for Jayoti Sangh, the candidate must be enrolled in a regular, full time course and resident at University Campus.
4. The Nominee of Vice-JSR and SJS must be the student of First Year (enrolled in 2020) compulsorily.
We expect all the students willing to fill their e- Nomination Form must read the Constitution of Jayoti Sangh and accept their duties willingly.