Jayoti Vidyapeeth Women's University Jaipur symbol of woman-hood and Women Power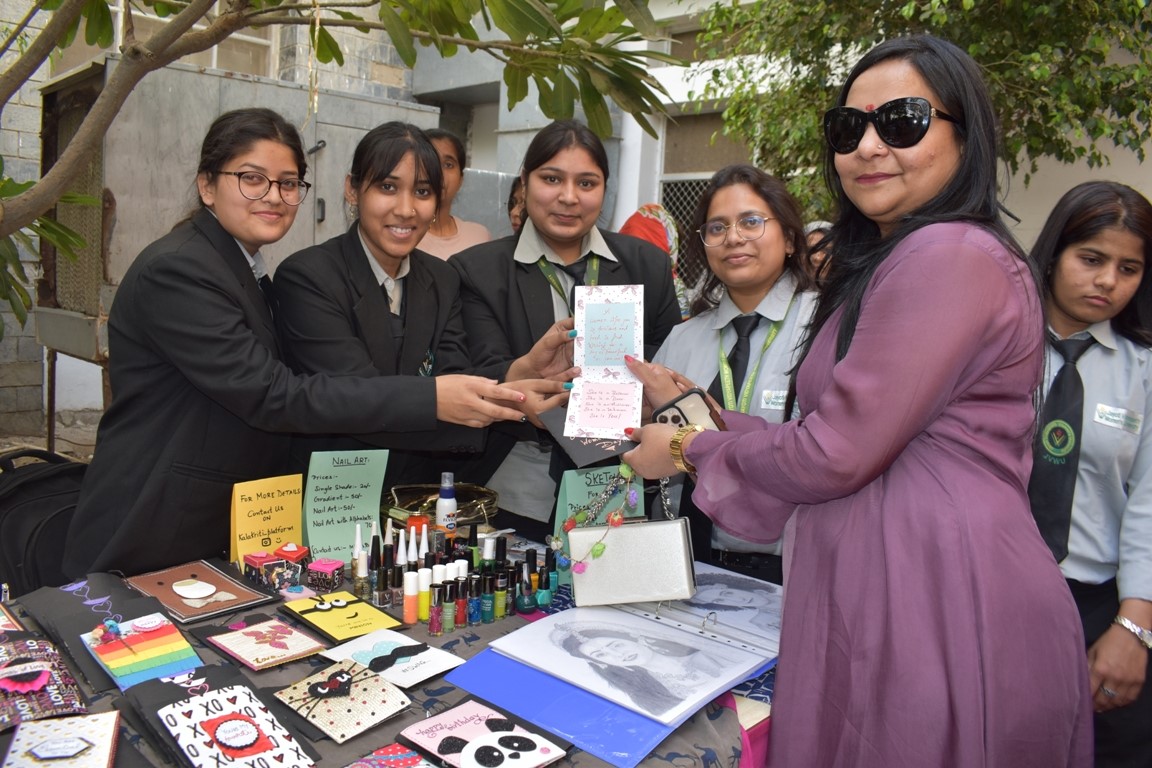 International Women's Day celebrated with great enthusiasm at Jayoti Vidyapeeth Women's University Jaipur with establishment of University 'Hunar Certification Chair' followed by vibrant event 'Women Innovation & Entrepreneurship Gallery'
8 march 2021, premises of the Jayoti Vidyapeeth Women's University on Monday reverberated with the shouts of joyous students, who had put up innovative stalls containing various food items, handmade products, waste management exhibitions and recycled creative products, and were eager to sell them to the visitors.
The entire premises of the University had come alive with the students dressed in colourful attires stood behind their respective stalls. After all it was the International Women's Day. The Day had especial significance for the University, which had carved out a niche for itself in the country in the field of women's education.
No wonder the chairperson of the University Hon'ble Prof. (H) Vidushi Garg Ji visited each stall and while she appreciated the efforts of the students, she also had a taste of the food items there. The Chairperson inaugurated the 'Women Innovation & Entrepreneurship Gallery' then She also inaugurated University 'Hunar Certification Chair' on this occasion.
University established Hunar Certification chair to certify the talent and skills of the satudents, staff and local community for providing them ample of employment opportunities.
The purpose of this program is to show that today's woman is not less than anyone. Today, a woman is coming forward in the biggest tasks, today women are coming forward after mixing with men shoulder to shoulder and moving forward to become a Great entrepreneur in a large number. .
So there was a stall of 'Dal-Bati', a typical Rajasthani cuisine, Thepla a Gujrati Stall displayed by Gujrati students, 'chaat' , 'pani-puri', Bengali Pan and many more items . For the western food lovers there was a stall of 'Belgian Waffle' also. Crowds of students were seen around the food stalls. Gau Dhoop-Batti made by agriculture waste and cow dung (gobar) and Pure herbal Organic Chawanprash stalls are also there.
The department of fashion and design had also put up a stall selling beautifully designed dresses. For those, who wanted to get themselves photographed in colourful attires, there was the stall by the journalism students, who were with their cameras. Off course one had to shell out money from their pockets for the same.
''it's an occasion to show case the hidden talents also, the students and staff get ample opportunities to show case their talents in this University,'' said Oshika Tomar, a third semester student of Journalism at the University.
''It's an effort to do something innovative …..to encourage the students and the staff to show case innovative ideas, products,'' says Humble Dr. Panckaj Garg sir ,Hon'ble founder and advisor of the University.
This whole event was marked the stepping stone for the future of Entrepreneurship and Innovation with an aim of providing a favorable environment for students and all staff members to develop their innovative and creative skills leading to future entrepreneurs.