JAYOTI VIDYAPEETH WOMEN'S UNIVERSITY National Moot Court Competition 2017-18 for Women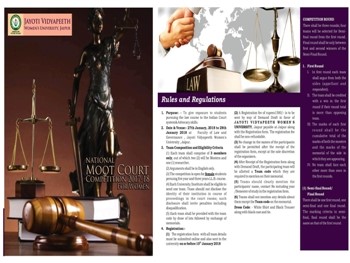 Rules and Regulations
1 Purpose: - To give exposure to students pursuing the law course to the Indian Court system& Advocacy skills.
2. Date & Venue:- 27th January, 2018 to 28th January 2018 at Faculty of Law and Governance , Jayoti Vidyapeeth Women's University , Jaipur.
3. Team Composition and Eligibility Criteria
(1) Each team shall comprise of 3 members only, out of which two (2) will be Mooters and one (1) researcher.
(2) Arguments shall be in English only.
(3) The competition is open for female students persuing five year and three years LL.B. course.
(4) Each University/Institute shall be eligible to send one team. Team should not disclose the identity of their institution in course of proceedings in the court rooms; such disclosure shall invite penalties including disqualification.
(5) Each team shall be provided with the team code by draw of lots followed by exchange of memorials.
4. Registration:-
The registration form with all team details must be submitted online and also sent to the university on or before 10th January 2018
A Registration fee of rupees1500/- is to be sent by way of Demand Draft in favor of JAYOTI VIDYAPEETH WOMEN'S UNIVERSITY, Jaipur payable at Jaipur along with the Registration form. The registration fee shall be non-refundable.
No change in the names of the participants shall be permitted after the receipt of the registration form, except at the sole discretion of the organizers.
After Receipt of the Registration form along with Demand Draft, the participating team will be allotted a Team code which they are required to mention on their memorial.
Teams should clearly mention the participants' name, contact No including year /Semester of study in the registration form.
Teams shall not mention any details about them except the Team code on the memorial.
Dress Code: - White Shirt and Black Trouser along with black coat and tie.
COMPETITION ROUND
There shall be three rounds; four teams will be selected for Semi-final round from the first round. Final round shall be only between first and second winners of the Semi-Final Round.
First Round
In first round each team shall argue from both the sides (appellant and respondent).
The team shall be credited with a win in the first round if their round total is more than opposing team.
The marks of each first round shall be the cumulative total of the marks of both the mooters and the marks of the memorial of the side in which they are appearing.
No team shall face each other more than once in the first rounds.
Semi-final Round/ Final Round
There shall be one first round, one semi-final and one final round. The marking criteria in semi-final, final round shall be the same as that of the first round.