"My Award and Ranking" organizing a grand award ceremony on 21 April 2023.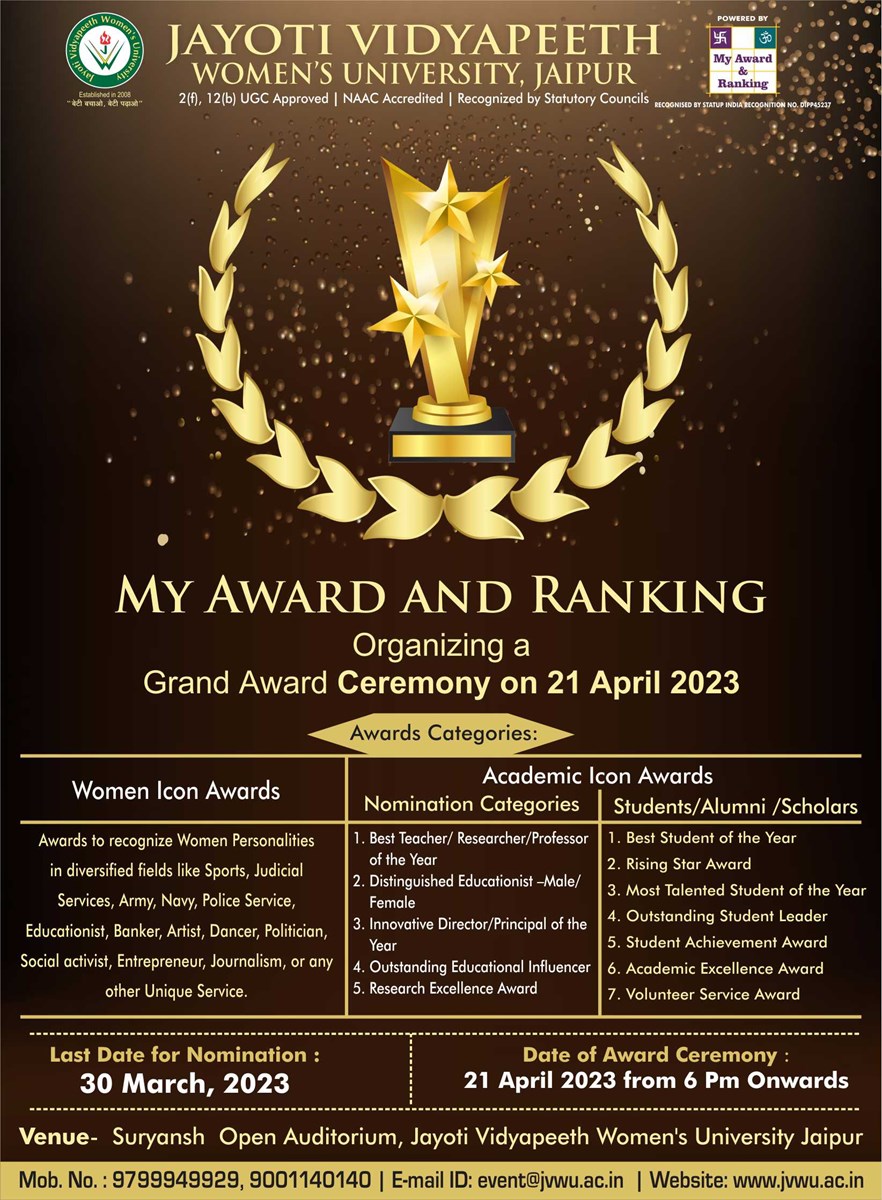 Every year, we recognize the efforts made by all Students & Alumni, Researchers, Academicians, and the Women Power of the Nation which shows that the work they are doing is valuable for the community development leading to Women Empowerment which is ultimately helpful for development of the University. This year also, on completion of 15 successful years of the university,
University's Registered Startup "My Award and Ranking" organizing a grand award ceremony on 21 April 2023.
Awards will be presented by the renowned public figure/professionals/celebrities Chief Guest. Nominations are open for all Participants who can fill their nominations in the following categories.
Last Date for Nomination : 30 March 2023
Date of Award Ceremony : 21 April 2023 from 6 Pm onwards.
Venue- Suryansh Open Auditorium, Jayoti Vidyapeeth Women's University Jaipur
Eligibility:
1. Women Icon Awards : Qualification is not a barrier for this award.
2. Academic Icon Awards- Intellectual: Qualified Teachers /Researchers/Scholars /professionals.
3. Academic Icon Awards- Learner: Female students from all over the world must be enrolled in any Institution (School/ College/ University).
Procedure: Anyone may apply for the respective awards in maxmimum Two Categories and can submit their nomination form through google form link.
https://forms.gle/uDUofu3URPGnQ5JQ6
The jury will scrutinize the application against the parameters. If you qualify the parameters, then your nomination will be confirmed, The nomination fee is refundable if the nomination is rejected by the jury.
Benefits :
1. Award Certificate & Trophy from celebrity chief guest.
2. Pictures and video of the organization's officials accepting the award on stage. These would be taken by our own official photography and videography team.
3. Invitation for 2 family members to attend the award ceremony.
4. Personalized Promotional ticket for social media users.