National Service Scheme (NSS) unit of Jayoti Vidyapeeth Women's University, Jaipur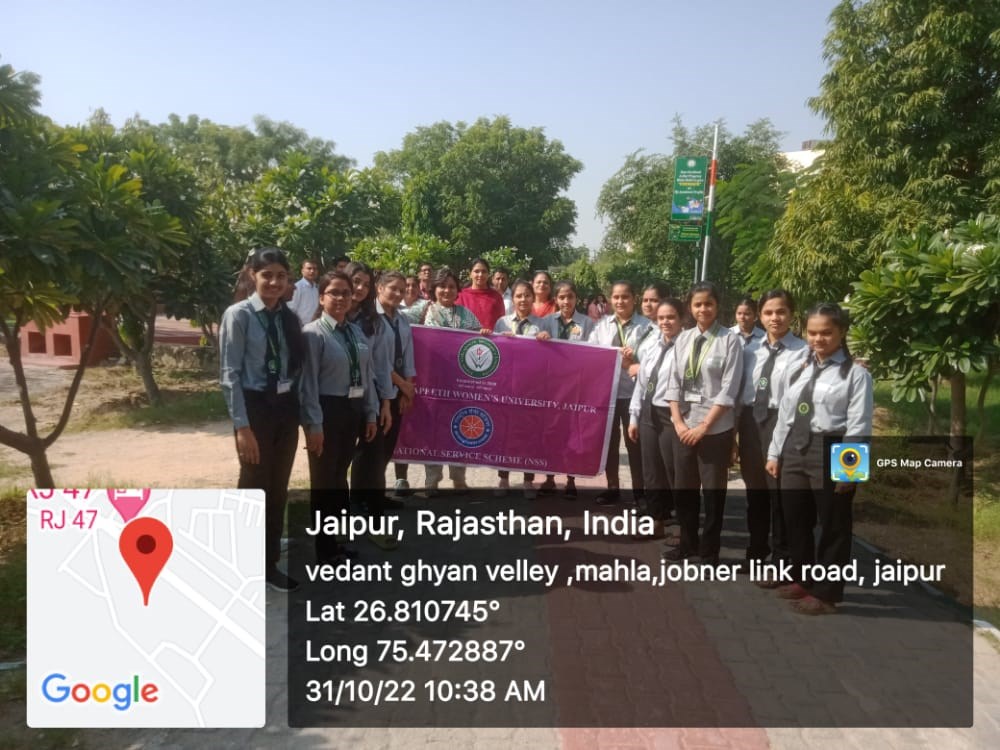 National Service Scheme (NSS) unit of Jayoti Vidyapeeth Women's University, Jaipur organized the celebration of "Rashtriya Ekta Diwas" (National Unity Day) on 31st October 2022. This day is observed as the Birth Anniversary of Sardar Vallabhbhai Patel who is popularly known as the Iron Man of India. He was first Home Minister and one of the founding fathers of the Republic of India. He was a great social leader who worked enormously for the integration of people to make India a united and independent nation. He united 565 princely states to give India her present identity.
Jayoti Vidyapeeth Women's University following the mandate organized various activities in the university premises in order to extend their heartfelt appreciation about the life and the involvement of the great leader, Sardar Patel , in the veritable contribution during the freedom struggle and to lay a foundation of a unified country fused with oneness. The idea was to infuse in the young future generation with values integrated with the knowledge and adoration about the country's rich heritage.
To mark the celebration of the National Unity Day, an Oath ceremony was organized. JV'n Dr. Sapna Gehlot, NSS Programme Officer, administered the Ekta Diwas Oath ceremony and organized Debate competition and Quiz Programme to appreciate the contributions made by Sardar Vallabhbhai Patel to the society and humanity in general. At the end, University Officials flagged off the Unity Run. NSS cadets led by their commandant, the students and faculty members participated in the unity run. All the participants carried a spirited message for cohesive and unified India. Their loud enchant for Quomi Ekta and Vande Mataram together boosted the morale of everyone who came across in their way giving a perfect tribute to the Iron man on his anniversary.
The events organized the entire day were fun-filled, motivating for the students as it was a different experience for the students as well as the Faculty members.